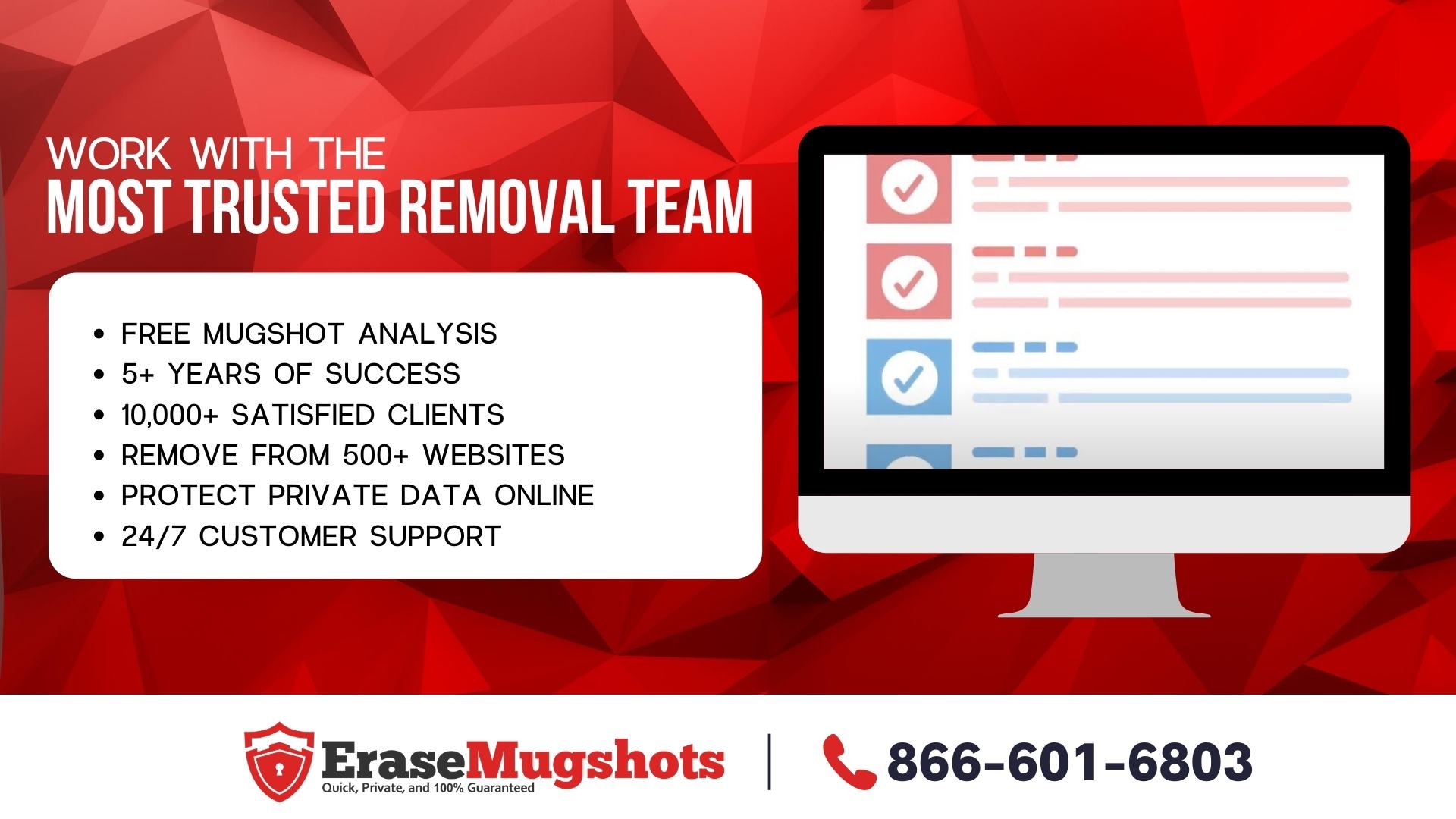 Erase Mugshots was launched in 2015 with one goal in mind, to offer everyone a reliable mugshot removal solution at an affordable price. 
All clients always tell us that they loved how we have no eligibility requirements for mugshot removals. Anyone is able to contact us seeking removal options on Google, Bing, and/or Yahoo for their embarrassing mugshot photos and arrest reports
At Erase Mugshots our team understands that it can be very stressful dealing with negative information online such as your mugshot. Therefore we are able to share case studies, blogs, videos, and anything you need to keep your reassured throughout the content removal process.
We have successfully helped 10,000+ individuals restore their web presence.
MORE ABOUT ERASEMUGSHOTS
If you are unfortunately dealing with arrest records and/or mugshots online it is important that you work to remove these unfavorable posts as soon as possible. 
Negative results on Google (especially when related to criminal activities) has its way of lingering alongside you throughout life. 
The internet is a double-edged sword, especially if you already have a minimal presence online. Did you know that 90% of Americans say that their Google searches are less than flattering? 
Don't leave your future in the hands of the internet, now is the time to be proactive and work towards a brighter and more positive future, and this all starts with what people see about you online. 
Erase Mugshots offers a complete and comprehensive removal solution for arrest records and
ADDITIONAL QUESTIONS ABOUT ERASEMUGSHOTS
How much does a mugshot removal cost?
Depending on the charges, city/state, time of year, and many other factors, mugshot removal costs fluctuate on a case by case basis. On average a typical mugshot removal solution costs $1,000+.
How long does a mugshot removal take?
When removing information online we always ask a minimum of 2-weeks for at least Google, Bing, and Yahoo to remove the dead page after our team has deleted the mugshots from the source.
The average timeframe for a mugshot removal is anywhere between 5-30 days depending on the number of websites, the severity of the charges, and whether the charges were dropped, dismissed, or expunged.
What does a FREE MUGSHOTS REMOVAL ANALYSIS include?
Great question – let's break down our mugshot removal process into 5 steps.
Once you have submitted your contact information on EraseMugshots.com (or call in), our team of Mugshot Removal Specialists will scour the internet in search of any and all traces of your mugshot and/or criminal reports.
Next, your designated Mugshot Removal Specialist will compile a detailed email including; case studies, infographics, videos, blogs, and finally a concise breakdown showing each and every website your arrest data was located on.
We then send you your Comprehensive Mugshots Removal Analysis with proposed solutions Erase Mugshots can offer (this also includes the total cost for your removal solution).
Your designated Mugshot Removal Specialist will then follow up to discuss your analysis in greater detail over the phone to answer any questions or concerns.
If everything looks good and you give us the "go-ahead", our team begins working within minutes of collecting payment.
GET STARTED NOW – RECEIVE YOUR FREE MUGSHOT REMOVAL ANALYSIS HERE
What type of mugshots does EraseMugshots NOT work to remove online?
Murder
Rape
Sexual Offenders (still on the public registry)
Animal Cruelty
Click here to discuss this in more depth with our team.
What if my mugshot pops back up on Google after Erase Mugshots removes it?
If the mugshot that reappears is from the previous mugshot removal solution rendered by EraseMugshots, there is never an additional charge.
Our team will happily remove it once again.